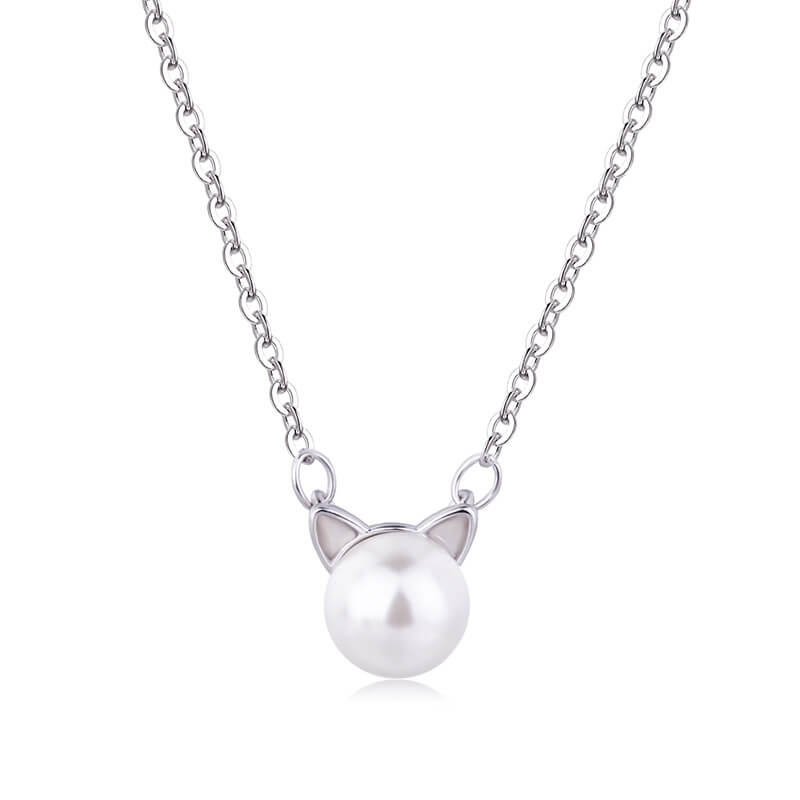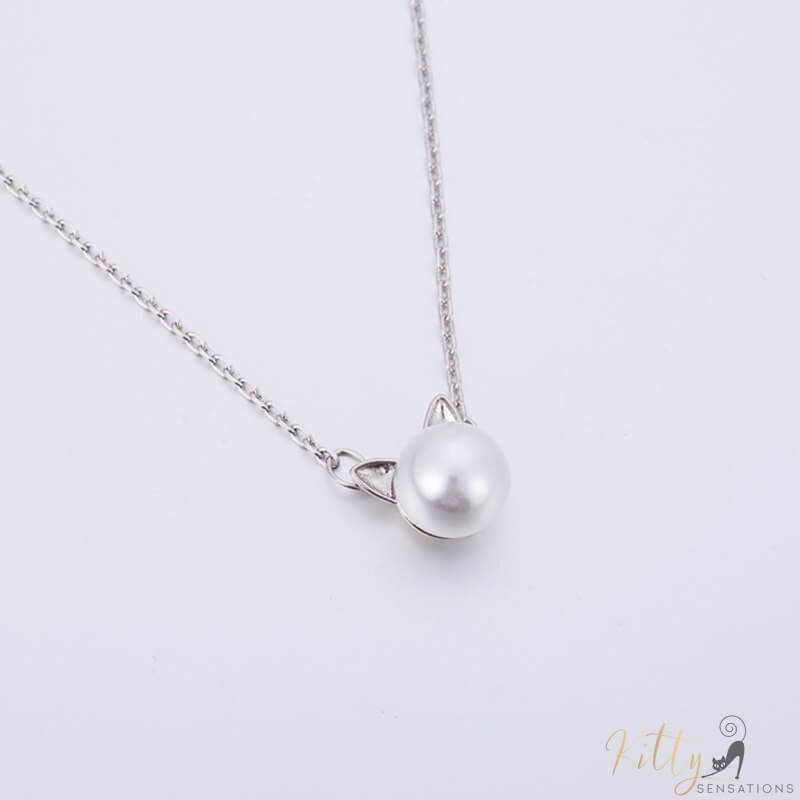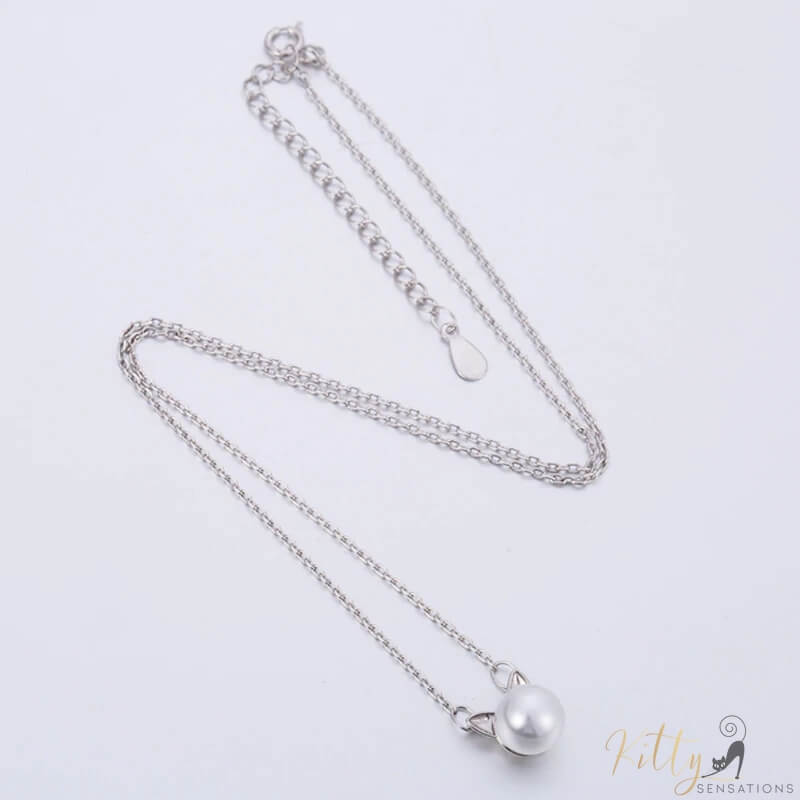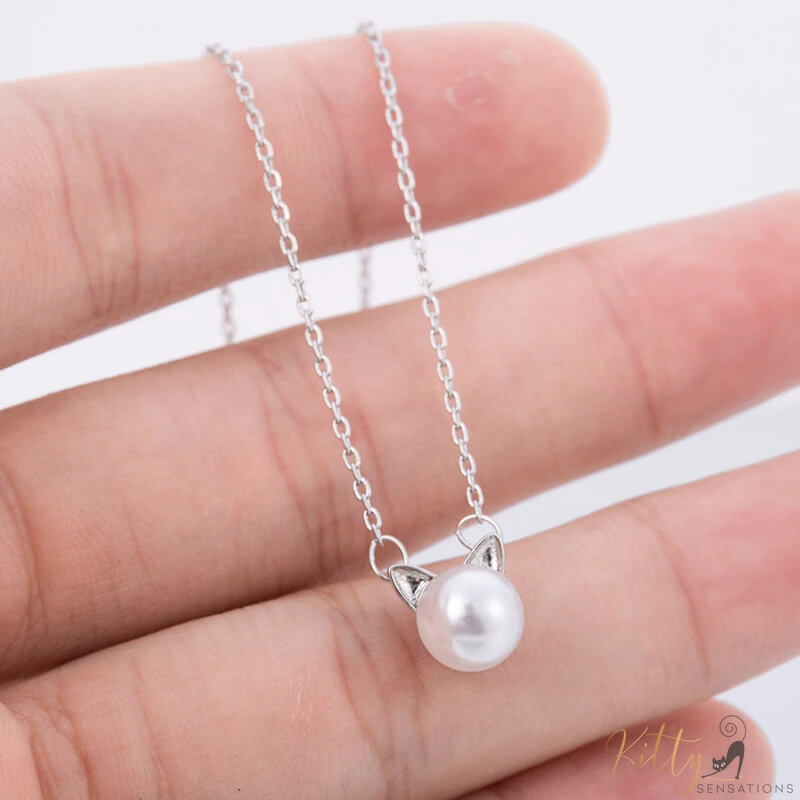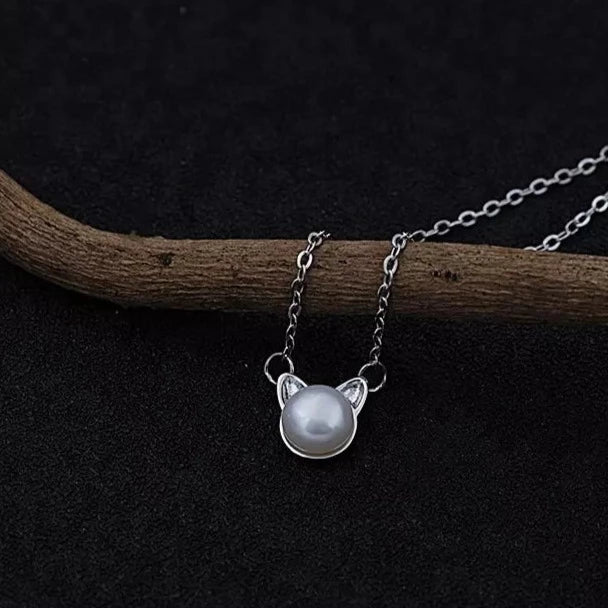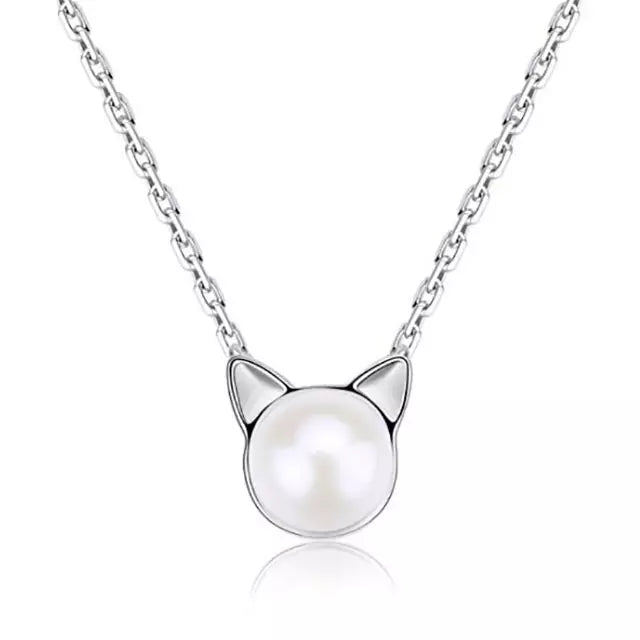 Freshwater Pearl Cat Necklace in Solid 925 Sterling Silver
**Enjoy complimentary shipping on this item**
Celebrate your love for felines with this blazing cat necklace in Solid 925 Sterling Silver featuring a hand-polished Freshwater Pearl.

 Carefully polished and placed into the pendant with seamless transition, the Freshwater Pearl has two little ears on top, symbolizing the cute nature of cats.
The KittySensations signature cat design also seen in the matching bracelet, earrings, and ring that honors your bond with your cat. You can also complement your look by getting the matching Freshwater Pearl Cat Stud Earrings in Solid 925 Sterling Silver, the matching Freshwater Pearl Cat Bracelet in Solid 925 Sterling Silver, and the matching Freshwater Pearl Cat Ring (Sterling Silver Plated). 
Or you can get the complete chic look when you get the complete set here: Freshwater Pearl Cat Set in Solid 925 Sterling Silver. 
~ We are here for you ~
If you have any questions, concerns or special inquiries, please do not hesitate to reach out to us via our contact form. We typically ship products within 1-3 business days after your order. You can then expect delivery within the United States within one week and in most other countries within two weeks. 
Our Story: We are a USA based, BBB Accredited, family owned and operated small business and stand for the reliability of US businesses. We genuinely care for our customers, patrons, and cat lovers and strive to provide the best possible products and services. KittySensations has been in business since 2017, started by a family that loves cats and pets of all sorts. Our first pets included the unlikely pair of a gold fish and a lop rabbit!. They got along really well with each other. It was a treat watching the lop bunny hop around the gold fish bowl, following the fishy movements with dangling golden ears. With more than 100,000 satisfied customers we have built a strong reputation of quality and reliability. We hand select our products to ensure that our customers get the best possible value and quality in cat jewelry. We are the one and the largest business in the USA specializing in cat jewelry. For everything cat jewelry related, you can rely on the name of KittySensations. KittySensations stands for quality, taste, and style. 
Our guarantee: If you are not in love with your necklace, you can always send it back to us and receive a full refund - no questions asked.

Features:
Beautiful cat necklace featuring a hand-polished Freshwater Pearl

Solid 925 Sterling Silver

Rhodium plated

Scratch and water resistant for lifelong wear

Adjustable size for maximum comfort

100% satisfaction guarantee + 10-year product warranty

Free worldwide shipping and returns
Freshwater Pearl diameter: 0.32" / 0.8 cm

Chain length (adjustable): 17.7" / 45 cm (

1.3mm*38cm+5cm extension)
Weight: 1.8-2.2grams
**Special note: Our production team is on Holiday from the 15th of January '20 to the 25th. Orders placed around those days will be manufactured afterwards. Thank you for your patience**
All of our products come with a 10-year product warranty. For more information on our KittySensations warranty, please refer to our FAQs.
Additionally, you always have the option to reconsider and return your cat accessory for 60 days after your purchase. We will then refund your money - no questions asked.
We are also committed to providing the best customer experience, from placing your order, to the piece(s) arriving at your doorstep. Here at each step of the process, you can always reach out and we will get back to you within 24 hours. On top of our free and insured shipping, we offer a 30-day return policy. Please allow 3-4 weeks for production + shipping due to the high demand of this piece. Certain countries like Brazil or Guatemala can take up to 60 days for shipping.