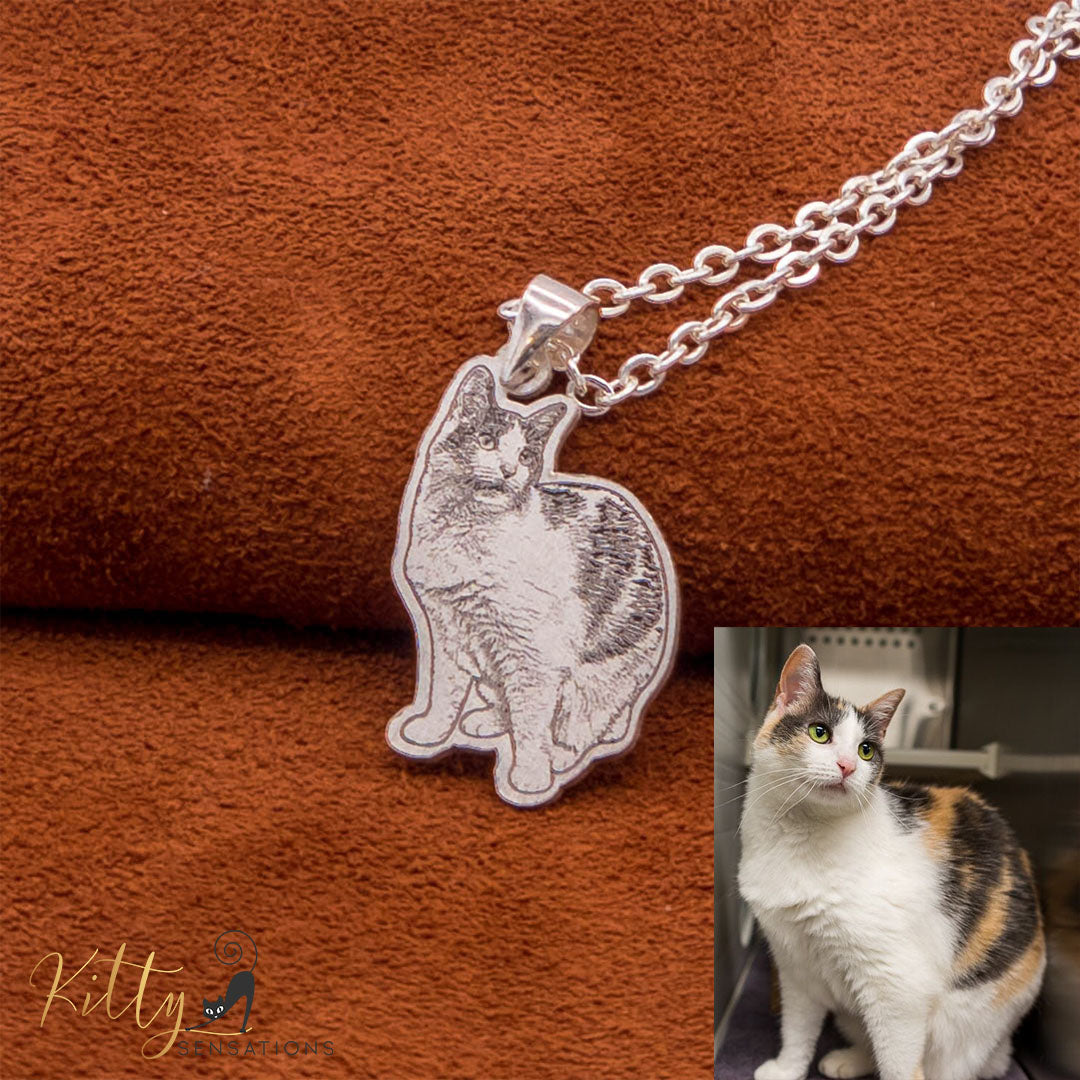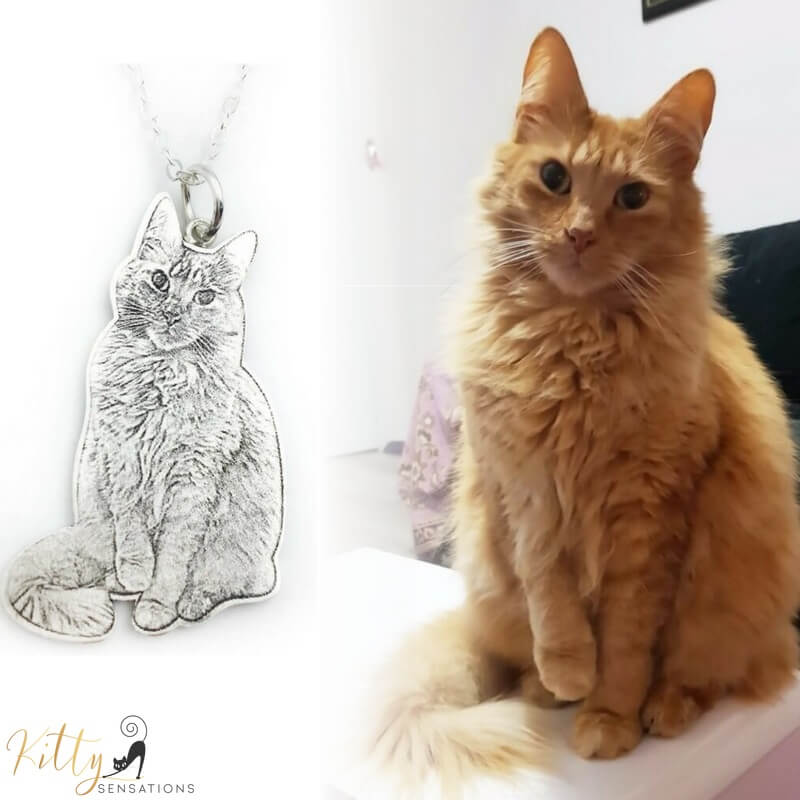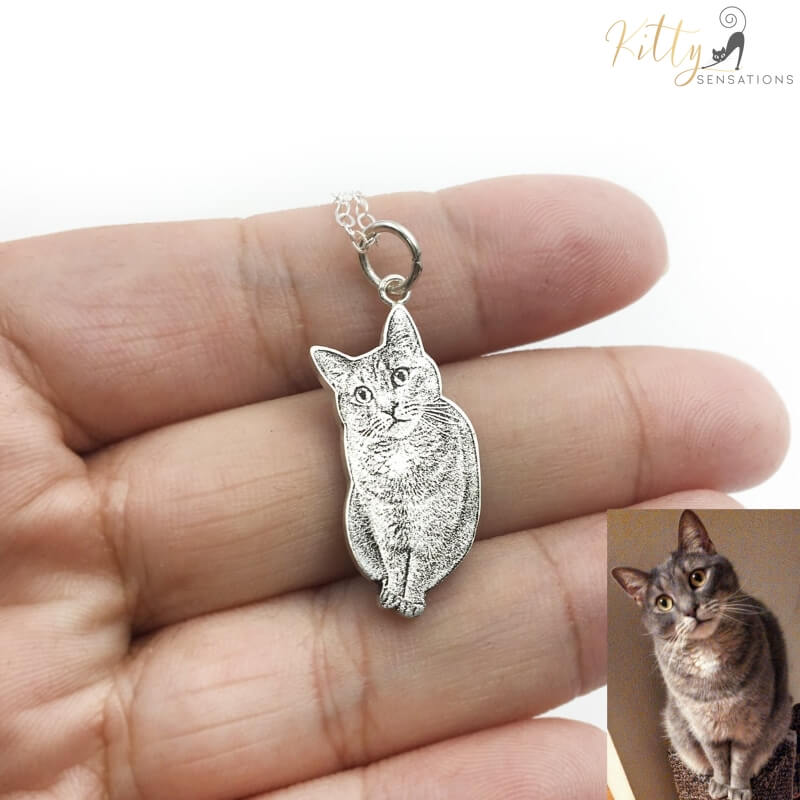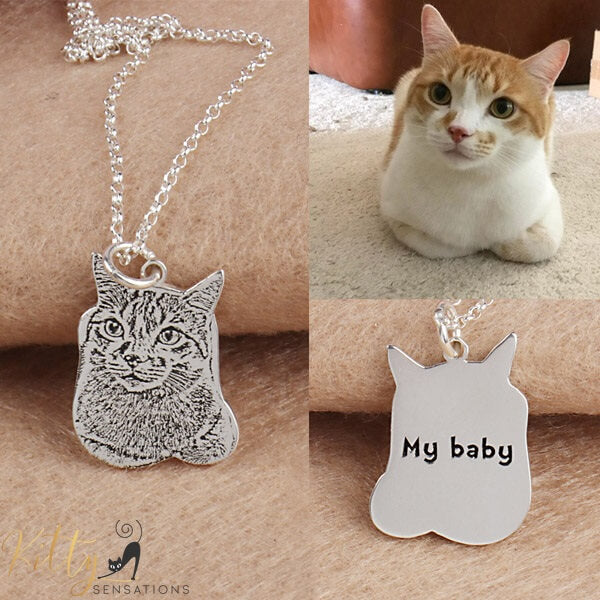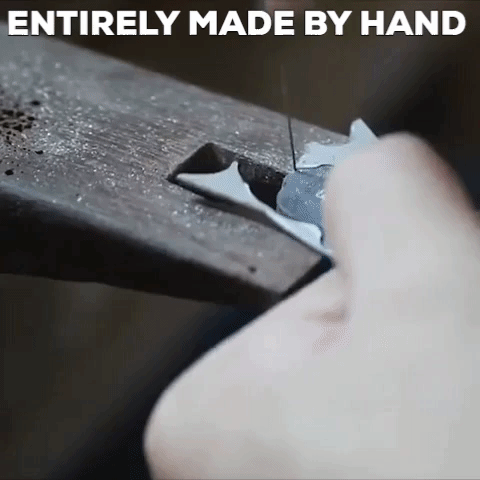 KittySensations™ Custom Cat Necklace with Personal Engraving in Solid 925 Sterling Silver
Free worldwide shipping!
Do you love cats?
Have your sweetheart with you everywhere you go with this beautiful, personalized necklace made of premium sterling silver. Send us a picture, and we will model this feline piece of jewelry after your cat. Make it even more personal with a custom engraving on the back - free of charge. Featured on AMC and loved by thousands of cat lovers around the world, this special piece radiates your passion for your cat for a lifetime.
This beautiful piece is handmade in America 🇺🇸 based on your cat and is truly a work of art. The premium, high-quality materials and craftsmanship make this necklace a must-have for any cat lover.
Our Custom Cat Necklaces are the perfect way to show your love for your furry friend. Every necklace is custom-made based on a picture of your cat, so you can be sure that it's one-of-a-kind! We'll even engrave a message of your choosing on the back for free.
To order, simply upload a photo of your cat and an optional short message to be engraved on the back side of the pendant.
You can finish off your perfect look with the matching  KittySensations™ Custom Charm Bracelet with Personal Engraving and the KittySensations™ Custom Cat Keychain with Personal Engraving
 If you also have a dog, you might want to get your own personalized, heirloom quality solid 925 Sterling Silver Personalized Dog Necklace with Engraving
Features:
Personalized necklace modeled after your cat
Scratch and water resistant Solid 925 Sterling Silver for lifelong wear and heirloom quality
Proudly handmade in America 🇺🇸
100% satisfaction guarantee + 10-year product warranty
Free worldwide shipping and returns
~ We are here for you ~
If you have any questions, concerns or special inquiries, please do not hesitate to reach out to us via our contact form. We typically ship products within 1-3 business days after your order. You can then expect delivery within the United States within one week and in most other countries within two weeks. 
Our Story: We are a USA based, BBB Accredited, family owned and operated small business and stand for the reliability of US businesses. We genuinely care for our customers, patrons, and cat lovers and strive to provide the best possible products and services. KittySensations has been in business since 2017, started by a family that loves cats and pets of all sorts. Our first pets included the unlikely pair of a gold fish and a lop rabbit!. They got along really well with each other. It was a treat watching the lop bunny hop around the gold fish bowl, following the fishy movements with dangling golden ears. With more than 100,000 satisfied customers we have built a strong reputation of quality and reliability. We hand select our products to ensure that our customers get the best possible value and quality in cat jewelry. We are the one and the largest business in the USA specializing in cat jewelry. For everything cat jewelry related, you can rely on the name of KittySensations. KittySensations stands for quality, taste, and style. 
The order process
[Optional] Enter the text for the engraving on the backside of the product (Max. 30 characters). The field to put in the text is just below the product price.
Upload an image of your cat (For more tips on the image scroll down to 'Instructions for images'). To do that, click on the 'Choose file' button below the engraving text box. If you are using an android device, you may need to allow permissions and choose your file from your documents.
Add the product to the cart
Recommendations for engravings
Warm, heartfelt messages work best!
Use letters, numbers and other signs. We don't recommend complicated emojis though.
Don't worry about styling and positioning. We will take care of that since every shape is different when it comes to the space for the engraving.
Feel free to be creative! This necklace is yours for a lifetime.
Recommendations for images
Pictures with cats facing the camera work best
Pick your favorite pose of your cutie!
Don't have the cat covered with toys or other objects
Smartphone images work very well (no need for a professional camera)
Minimum resolution: 600x600 (Even 10 year old phones will do!)
See the examples below for reference
All of our products come with a 10-year product warranty. For more information on our KittySensations warranty, please refer to our FAQs.
Additionally, you always have the option to reconsider and return your cat accessory for 60 days after your purchase. We will then refund your money - no questions asked.