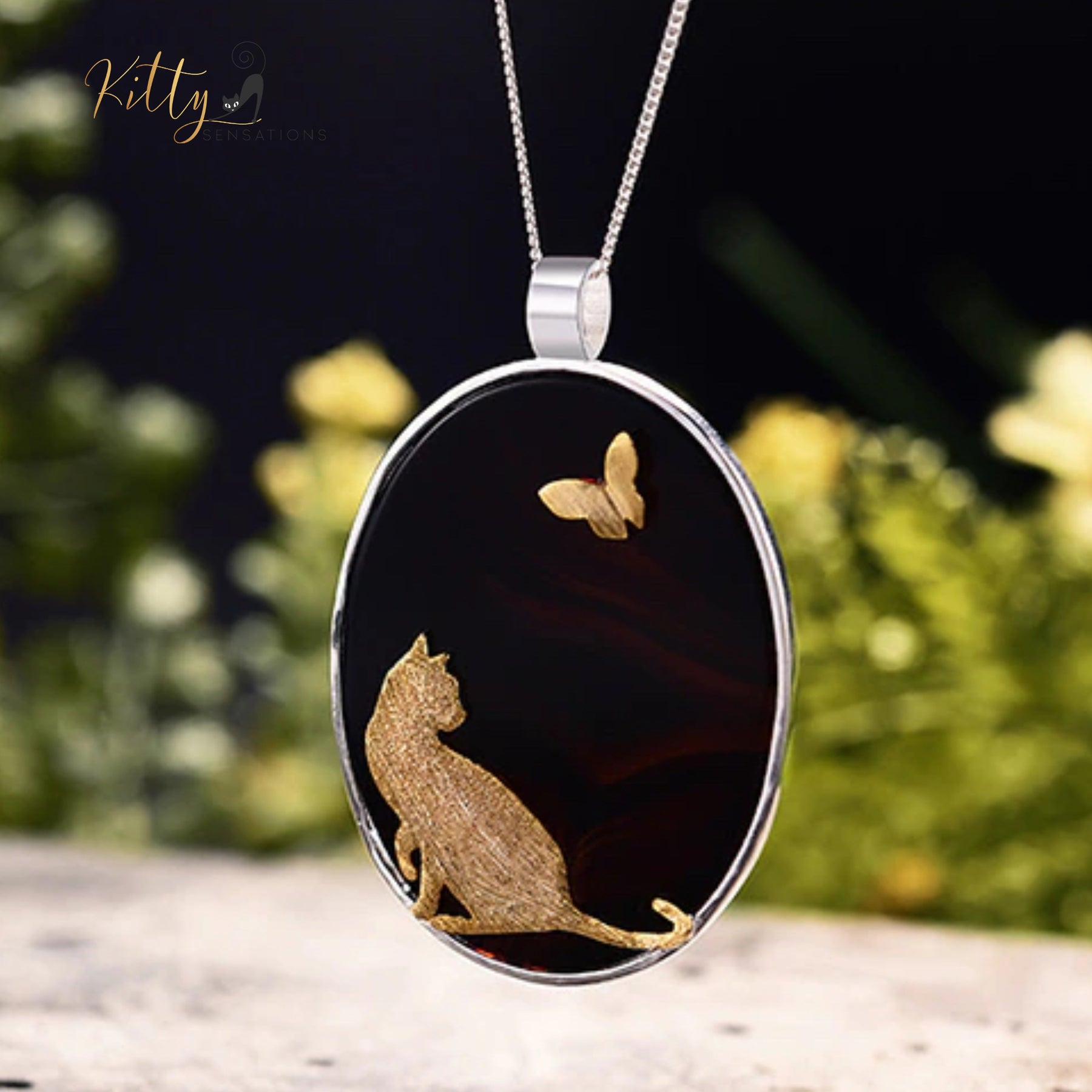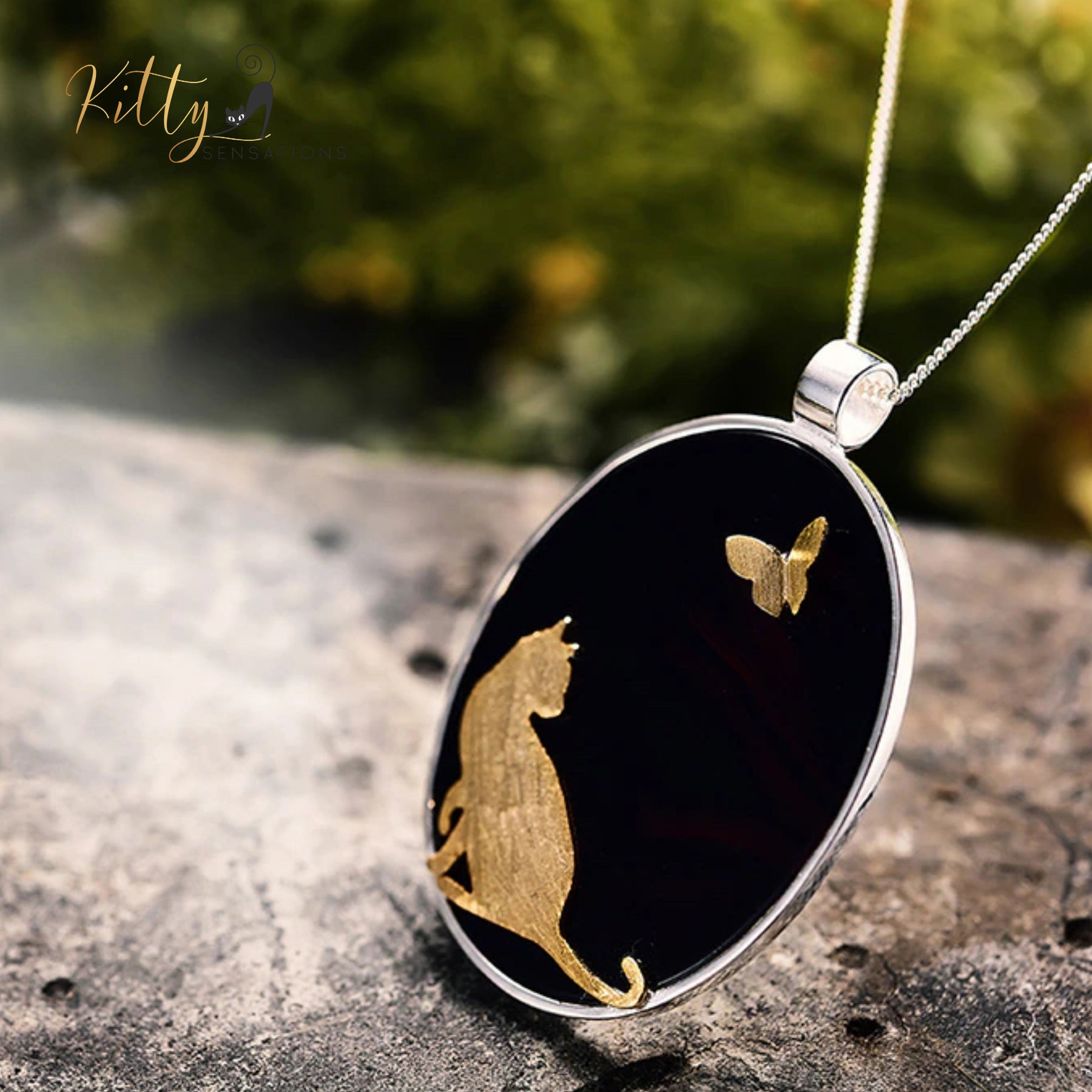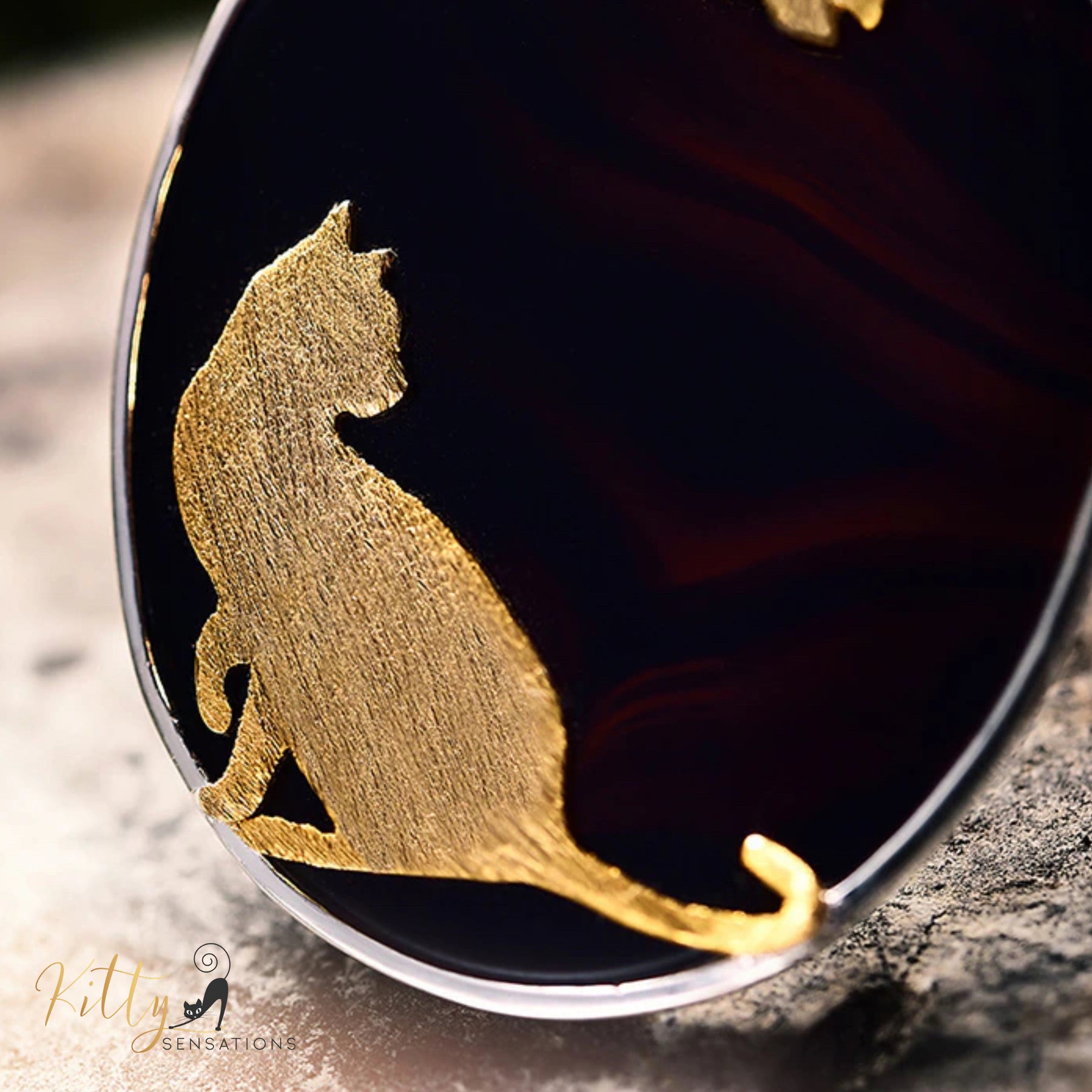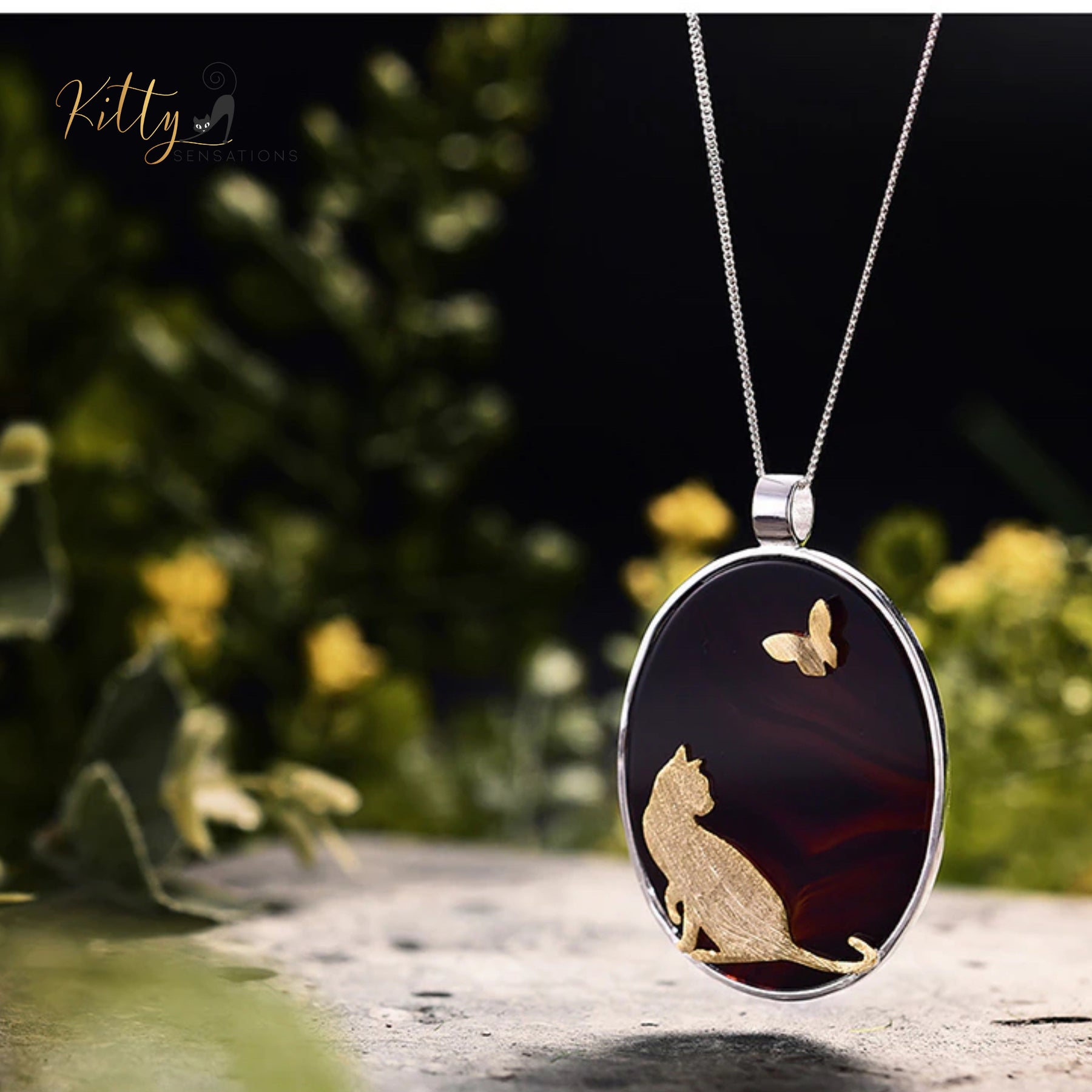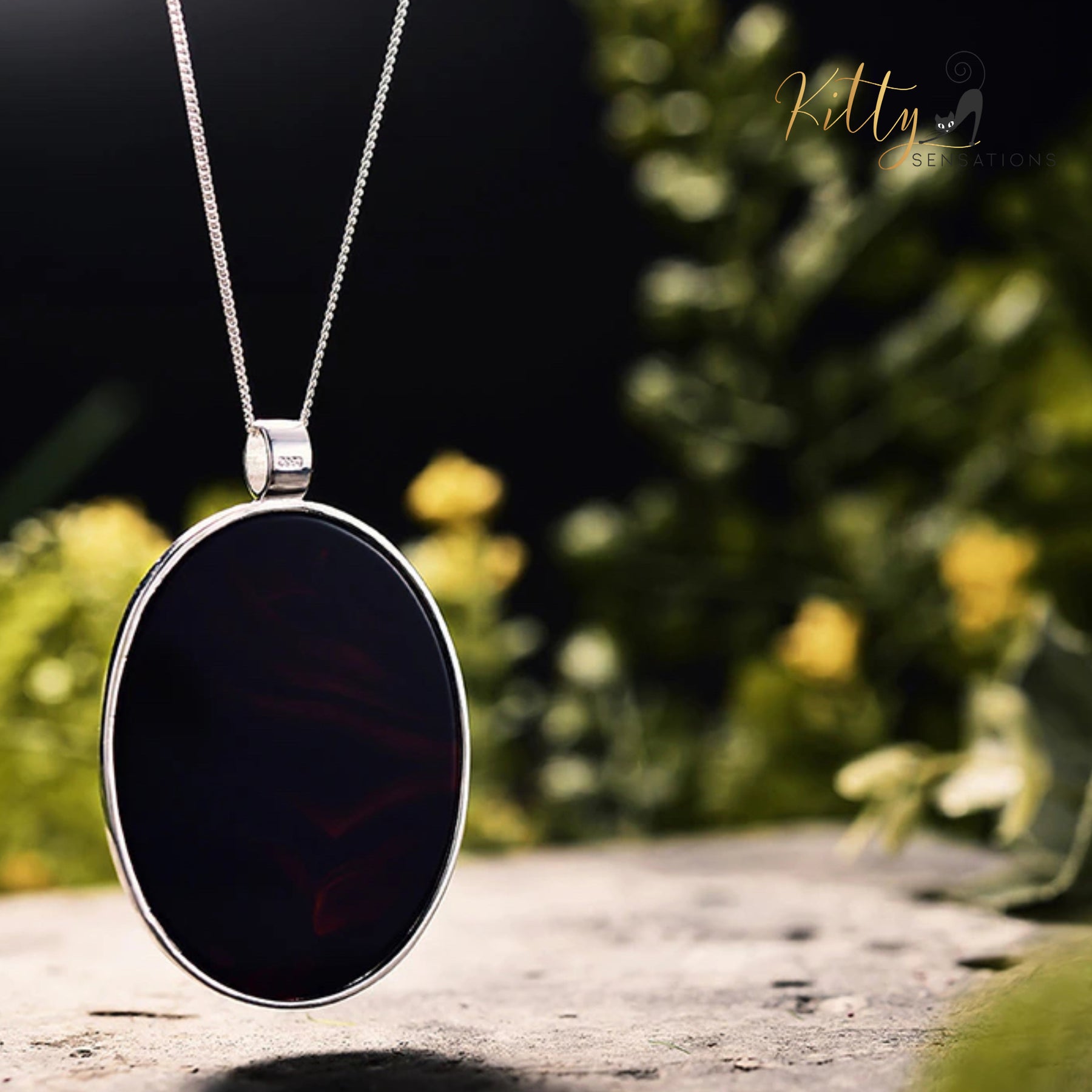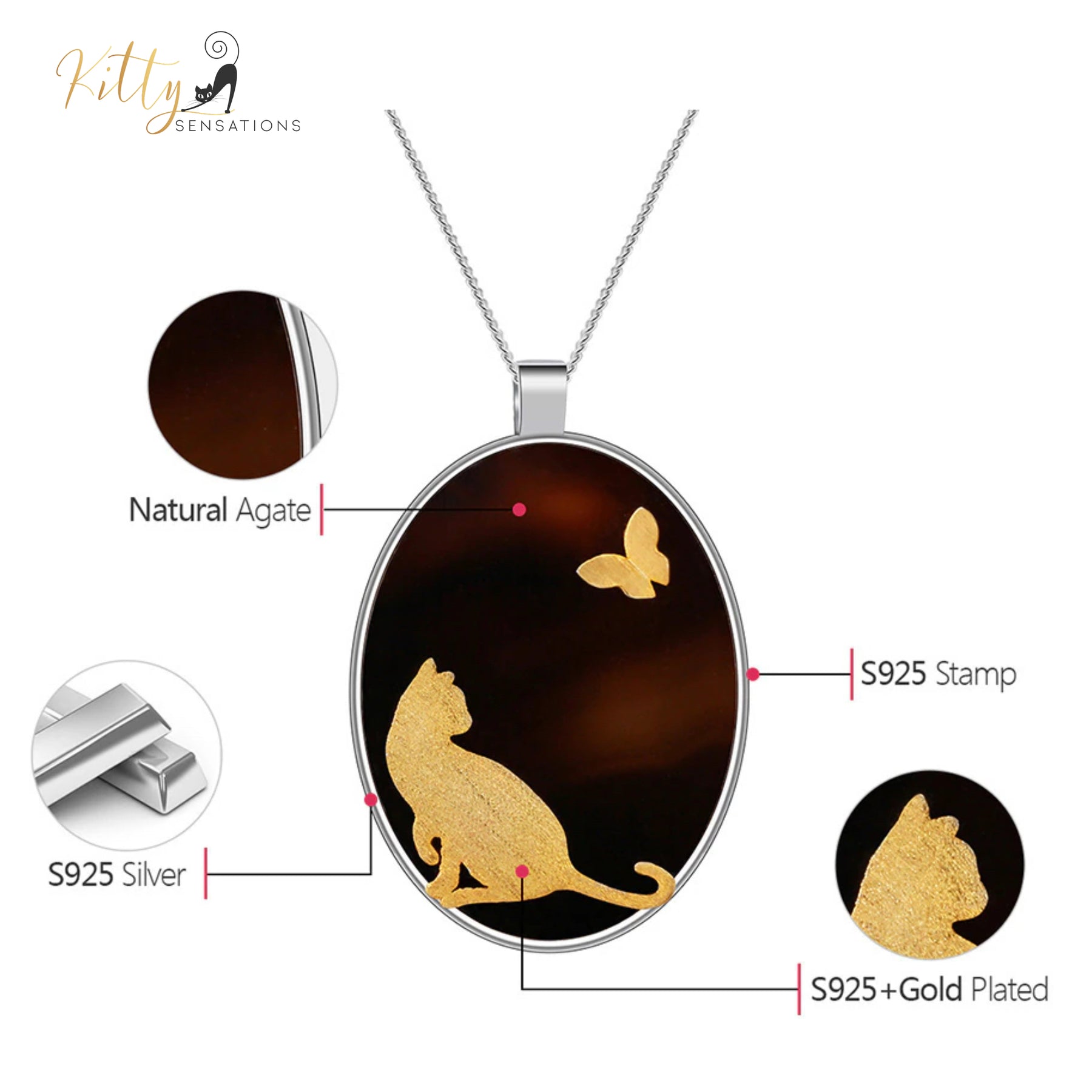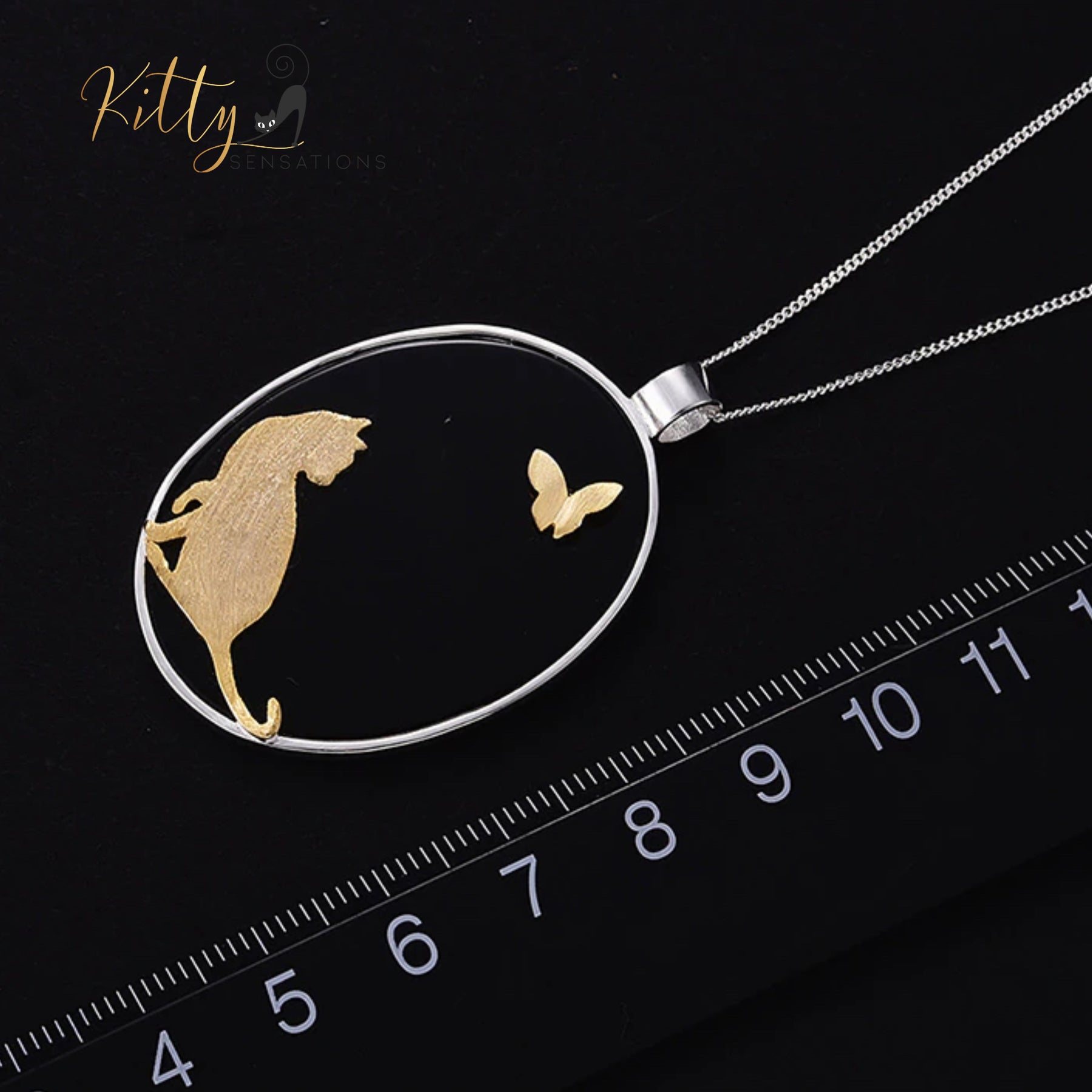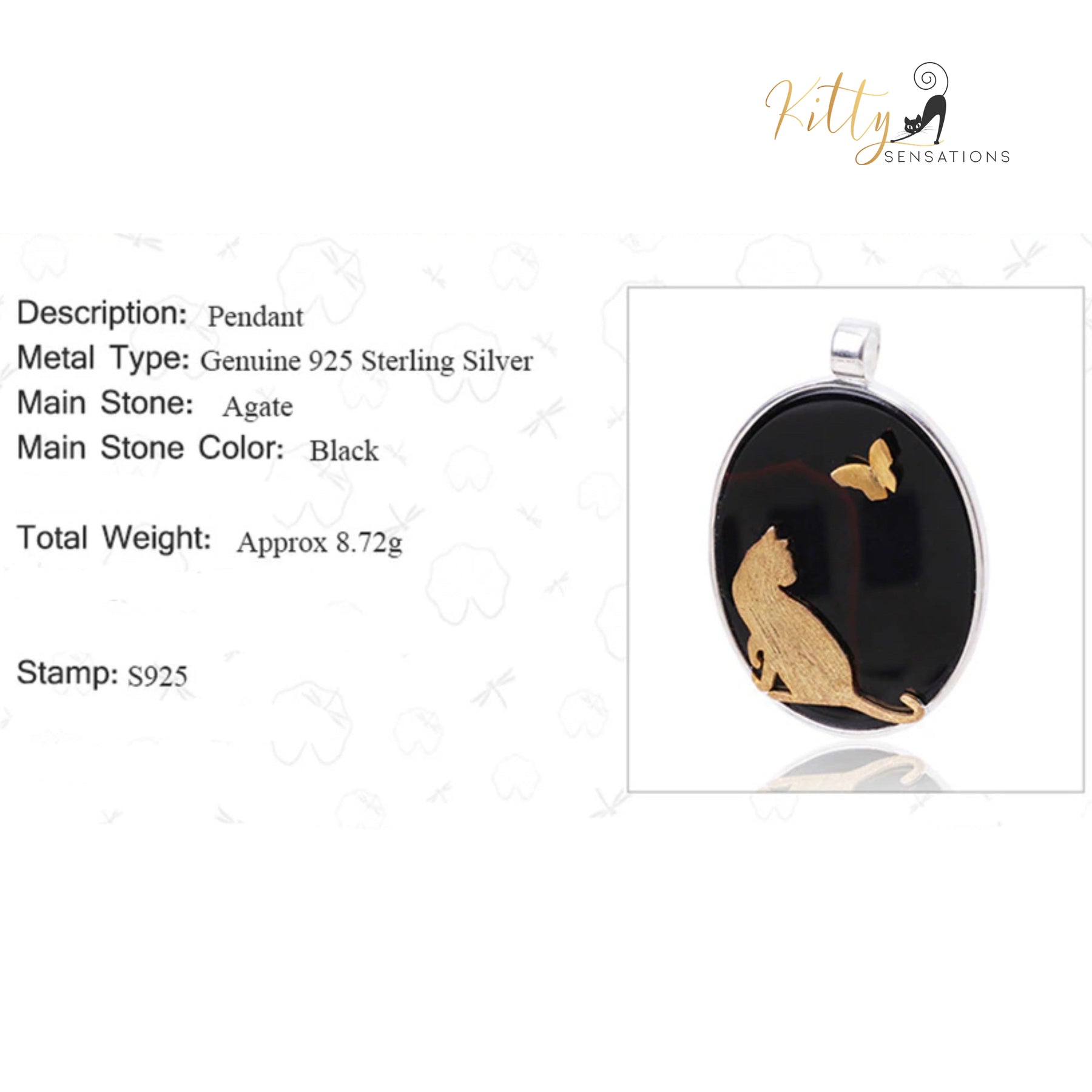 Gold Kitty on Natural Agate Necklace in Solid 925 Sterling Silver (Gold Plated) - Pendant Only
Your golden kitty is happily and playfully chasing a golden butterfly in a beautiful garden!  
This elegant Gold Kitty on Natural Agate Necklace in Solid 925 Sterling Silver (Gold Plated) shows how happy and content your cat is, because she is your cat :)
Made of Natural Agate in oval shape, it is framed in Solid 925 Sterling Silver. The Natural Agate shows lights that are black, gray, blue, pink orange, red, purple, yellow, and many other subtle shades, but it is primarily black in color. 
A cute kitty in Solid 925 Sterling Silver and plated in gold sits on this Natural Agate. The kitty's head is turned on the side, showing kitty ears. One of the kitty's cute paws is playfully bent while other paws rest on the frame of the pendant. A cute kitty tail extends to the other end of the oval Solid 925 Sterling Silver frame and then curls on the side.
The kitty seems to be looking at a beautiful butterfly. The butterfly in Solid 925 Sterling Silver and plated in Gold, has outstretched wings as if during a flight.
The butterfly is located at a side near the top of the oval Natural Agate.
The kitty figure is matted slightly roughly to depict cute kitty fur. The butterfly also has a matte finish, but it is smooth. 
This is one of the finest kitty necklaces possible. 
The pendant measures 4.75 centimeters in length and 3.2 centimeters in width. It weighs about 8.72 grams. 
It is highly polished and the surface is smooth and lustrous. It is free of Nickel, Lead, and Cadmium. 
This timeless pendant is classic, classy, simple and at the same time stylish, chic, and fashionable. 
It is comfortable to wear. It can be worn any time, any day, and for any occasion, at home or at work. It can be worn for Holidays, celebrations, and events. It is possible to wear it with any colored, white, or black outfit. 
It can be a perfect gift also! 
This beautiful pendant is a once in a life time opportunity to own something so fascinating, charming, classy, and fine in cat jewelry. 
~ We are here for you ~
If you have any questions, concerns or special inquiries, please do not hesitate to reach out to us via our contact form. We typically ship products within 1-3 business days after your order. You can then expect delivery within the United States within one week and in most other countries within two weeks. 
Our Story: We are a USA based, BBB Accredited, family owned and operated small business and stand for the reliability of US businesses. We genuinely care for our customers, patrons, and cat lovers and strive to provide the best possible products and services. KittySensations has been in business since 2017, started by a family that loves cats and pets of all sorts. Our first pets included the unlikely pair of a gold fish and a lop rabbit!. They got along really well with each other. It was a treat watching the lop bunny hop around the gold fish bowl, following the fishy movements with dangling golden ears. With more than 100,000 satisfied customers we have built a strong reputation of quality and reliability. We hand select our products to ensure that our customers get the best possible value and quality in cat jewelry. We are the one and the largest business in the USA specializing in cat jewelry. For everything cat jewelry related, you can rely on the name of KittySensations. KittySensations stands for quality, taste, and style. 
Our guarantee: If you decide against keeping your necklace/pendant, we will take it back and give you a full refund - no questions asked.

Features:

Solid 925 Sterling Silver

Plated with Gold
Natural Agate

Highly polished and lustrous

Water and scratch resistant for lifelong wear
Durable and will stay oxidation free for a long time
Nickel Free
Lead Free
Cadmium Free
Comfortable to wear
Anti-drop-protection structure
100% satisfaction guarantee + 10-year product warranty
Completely free shipping and return