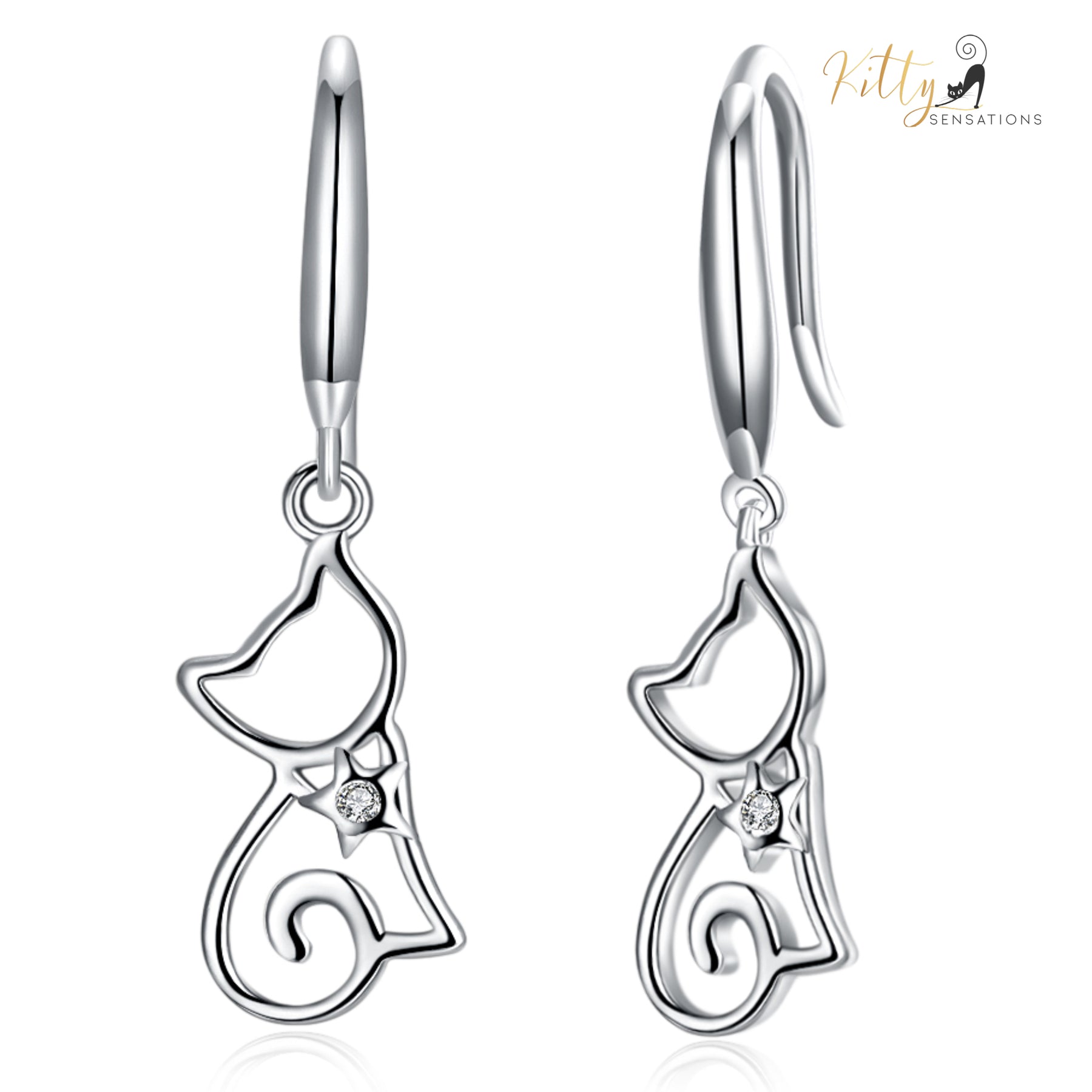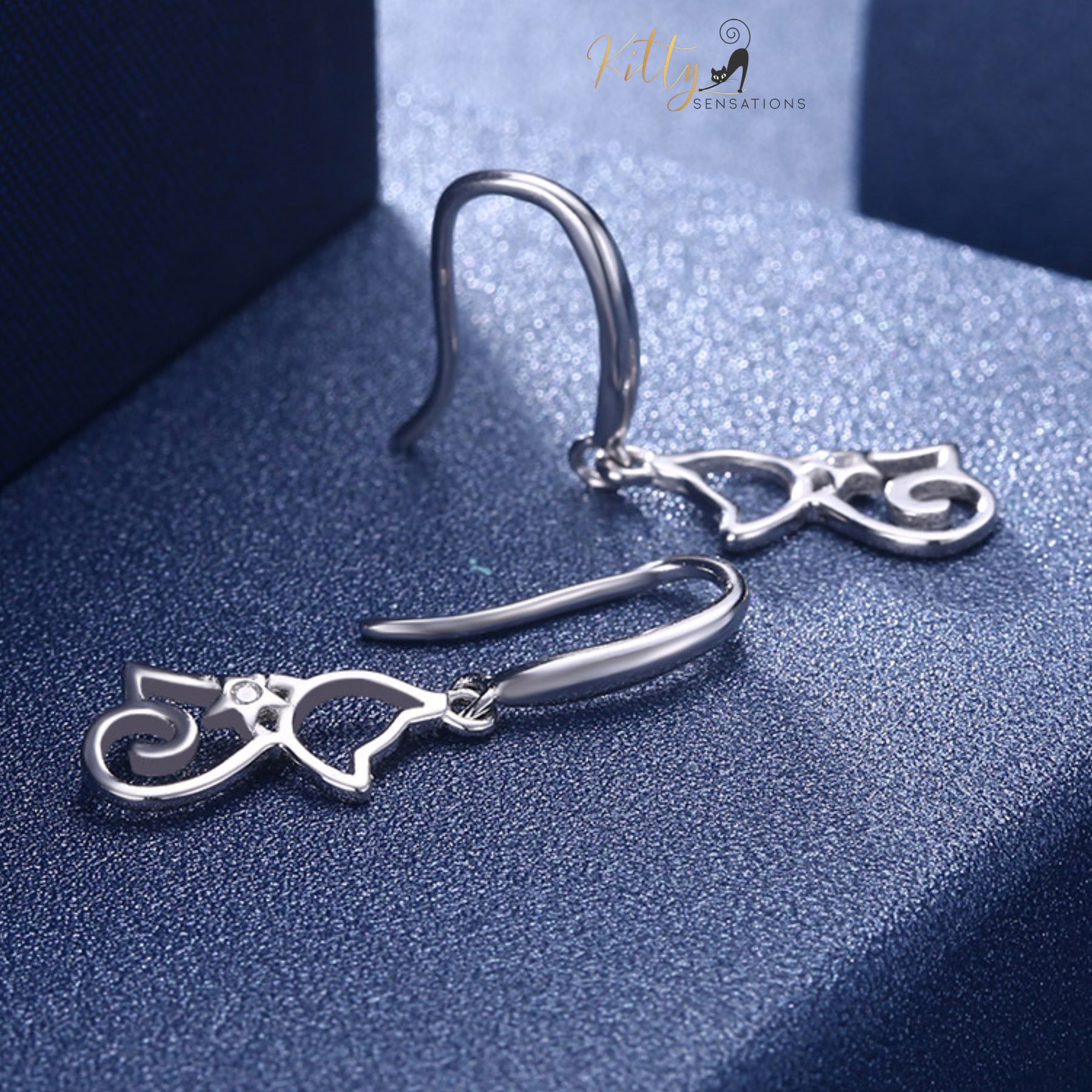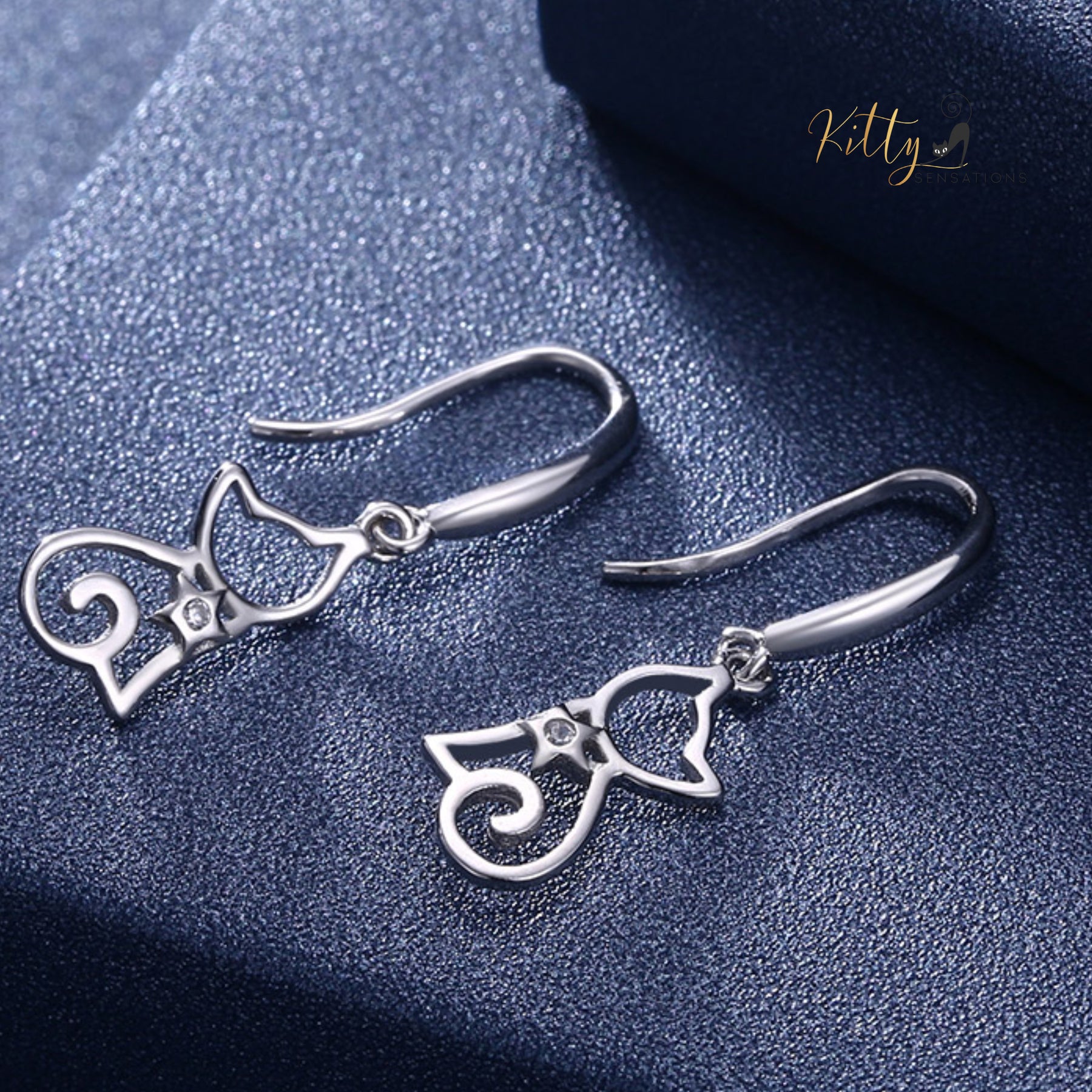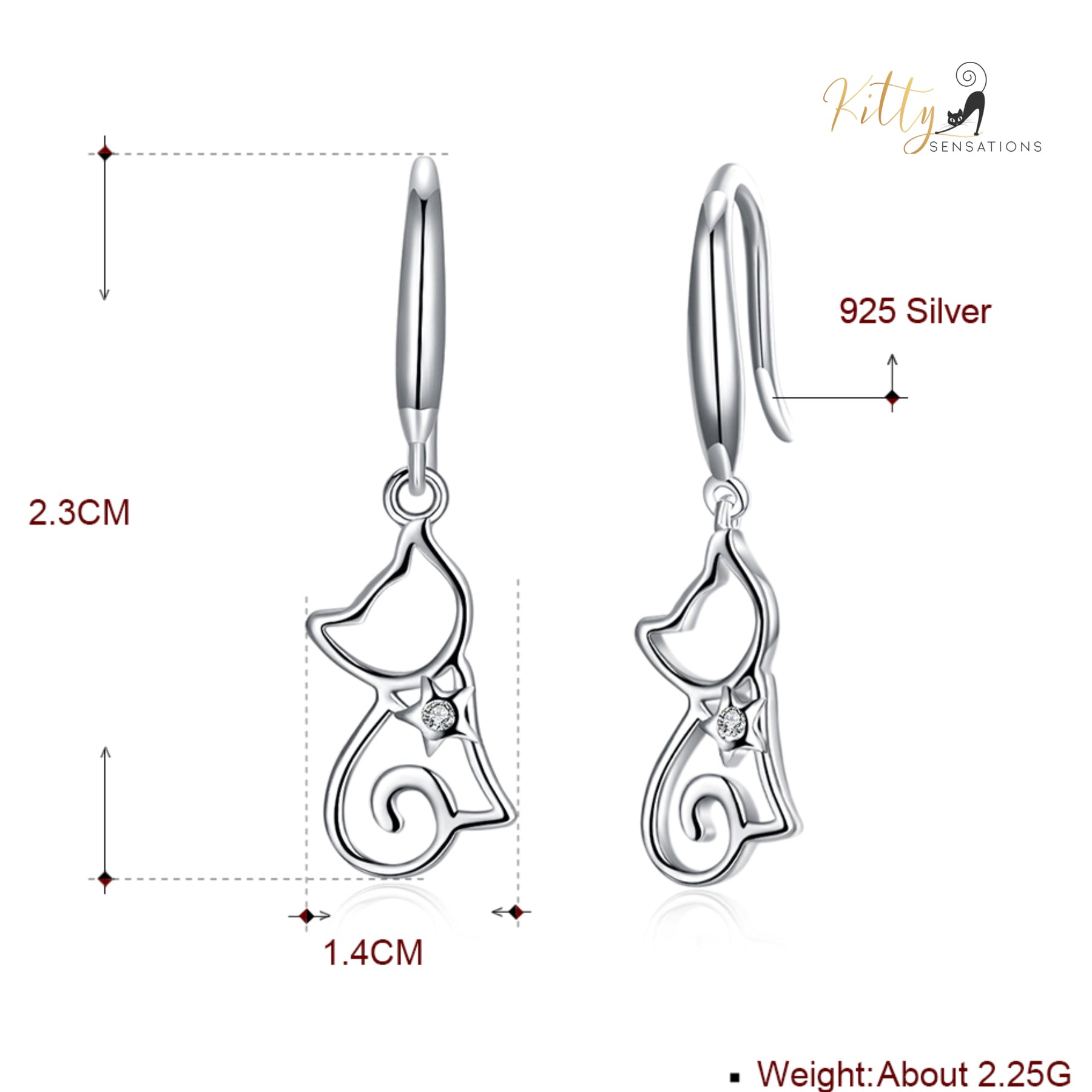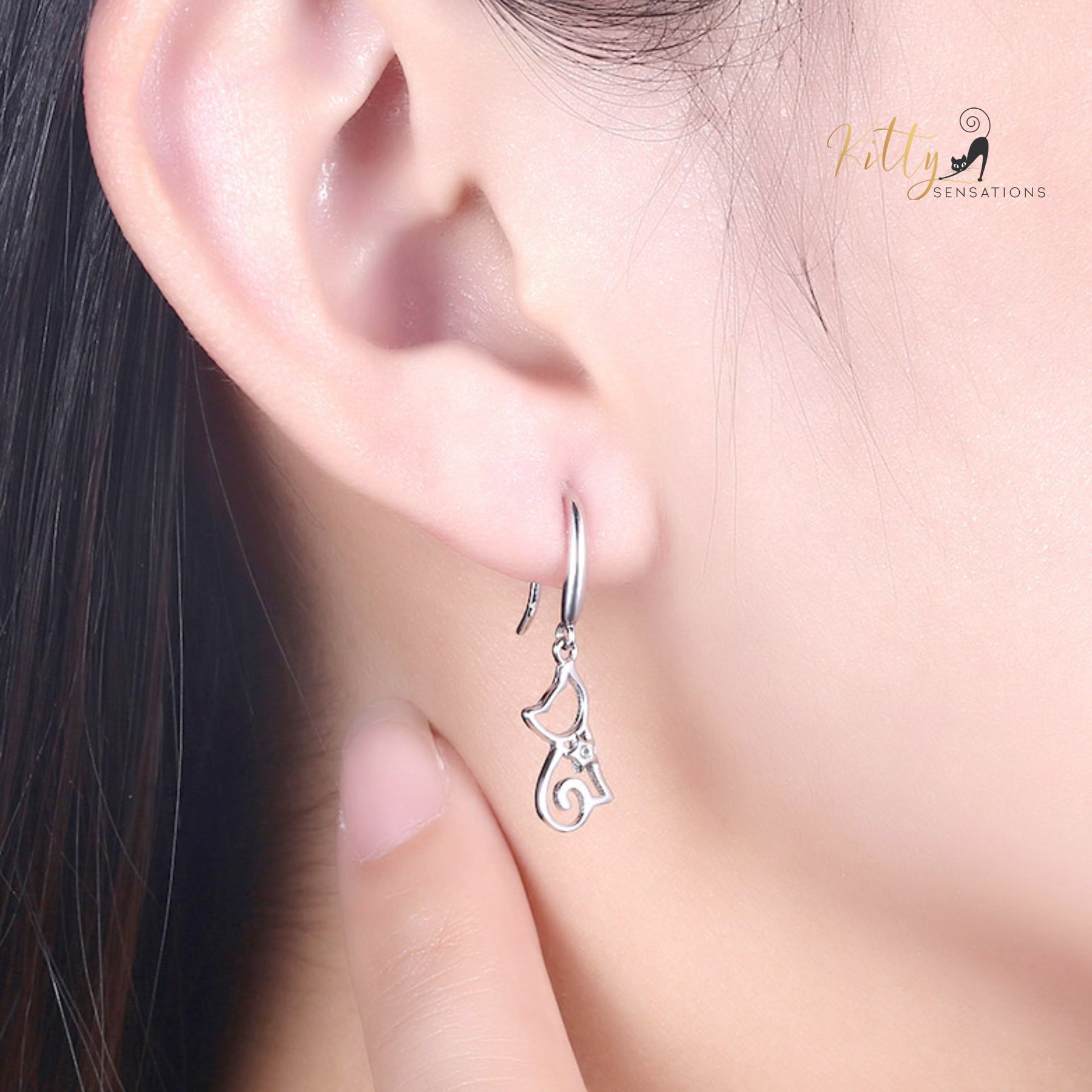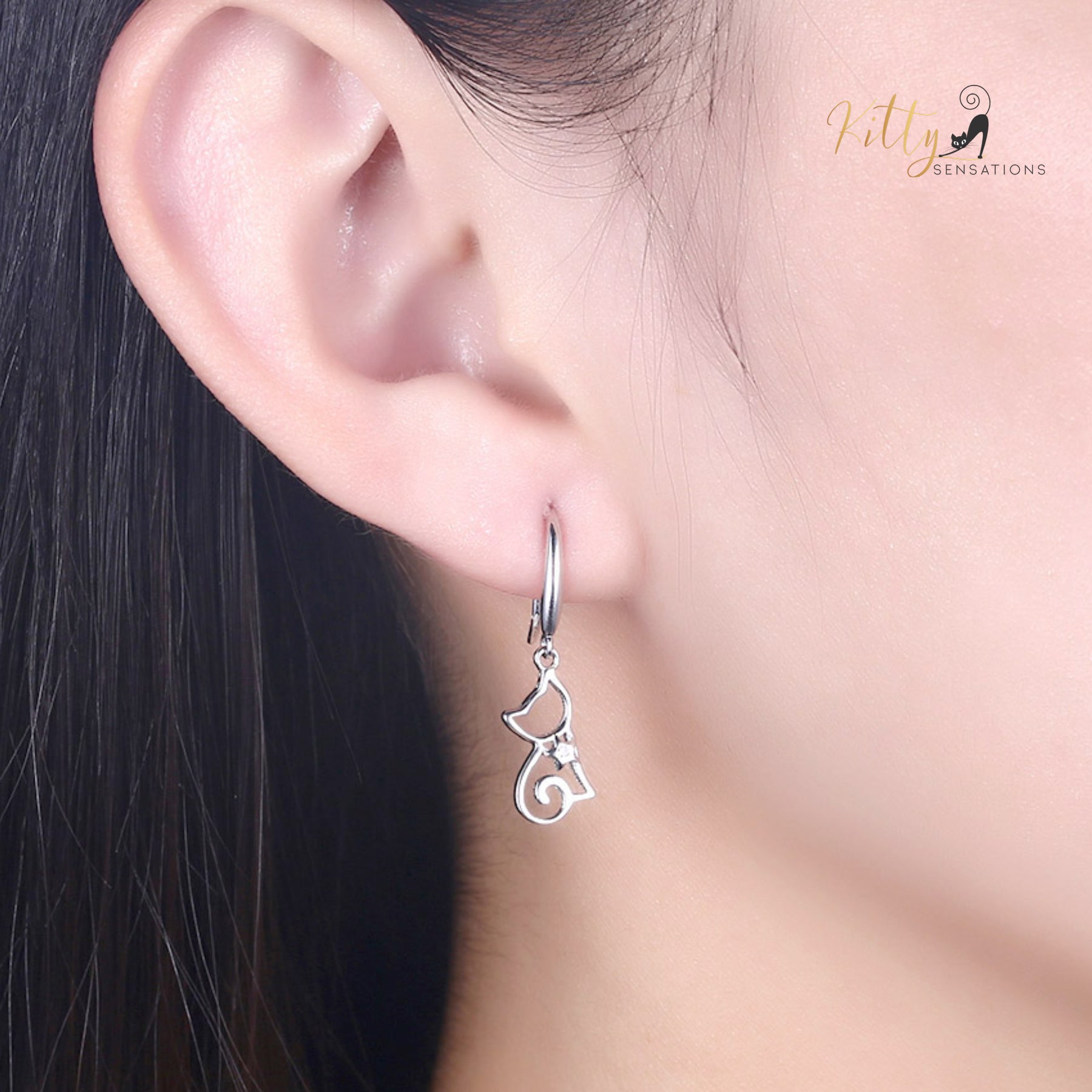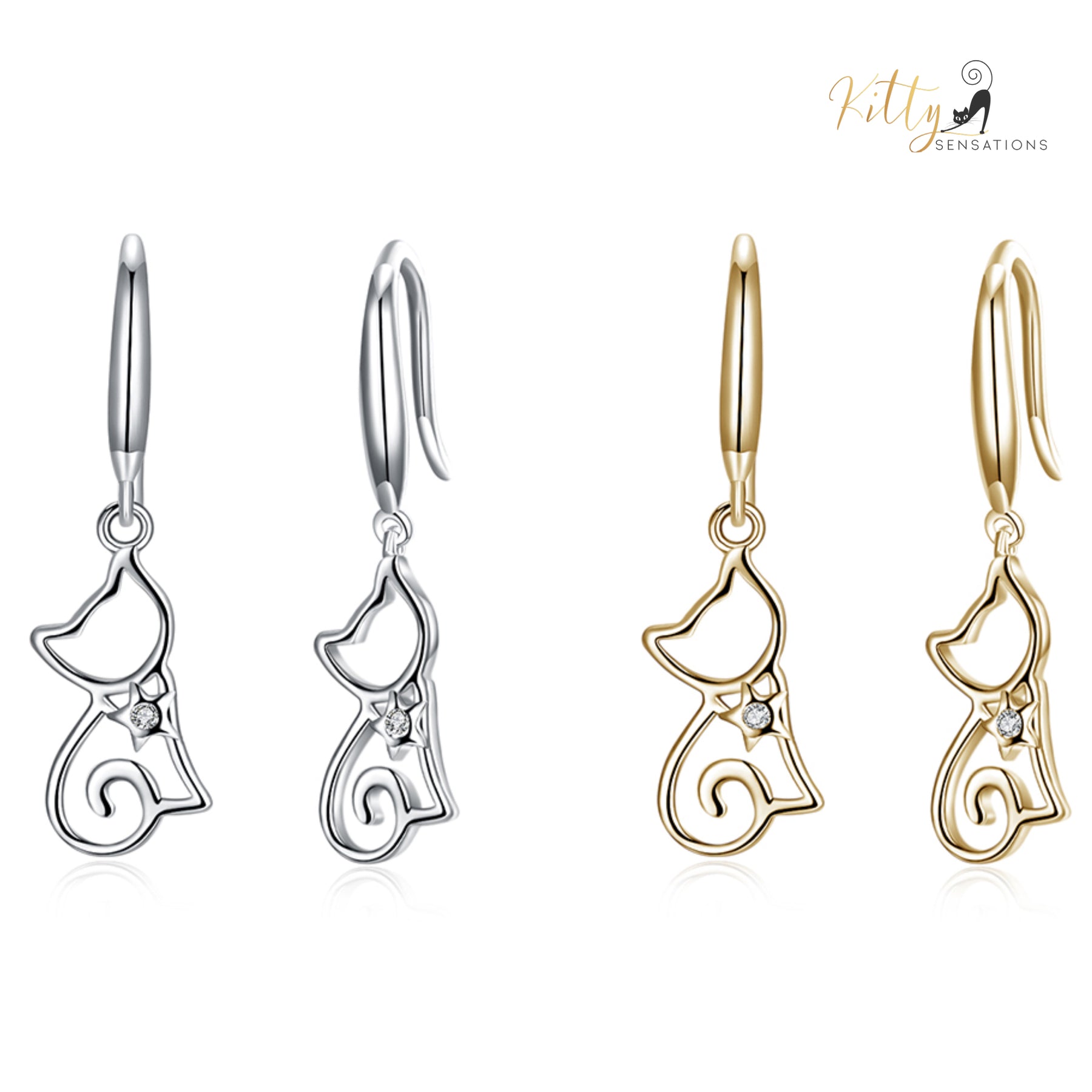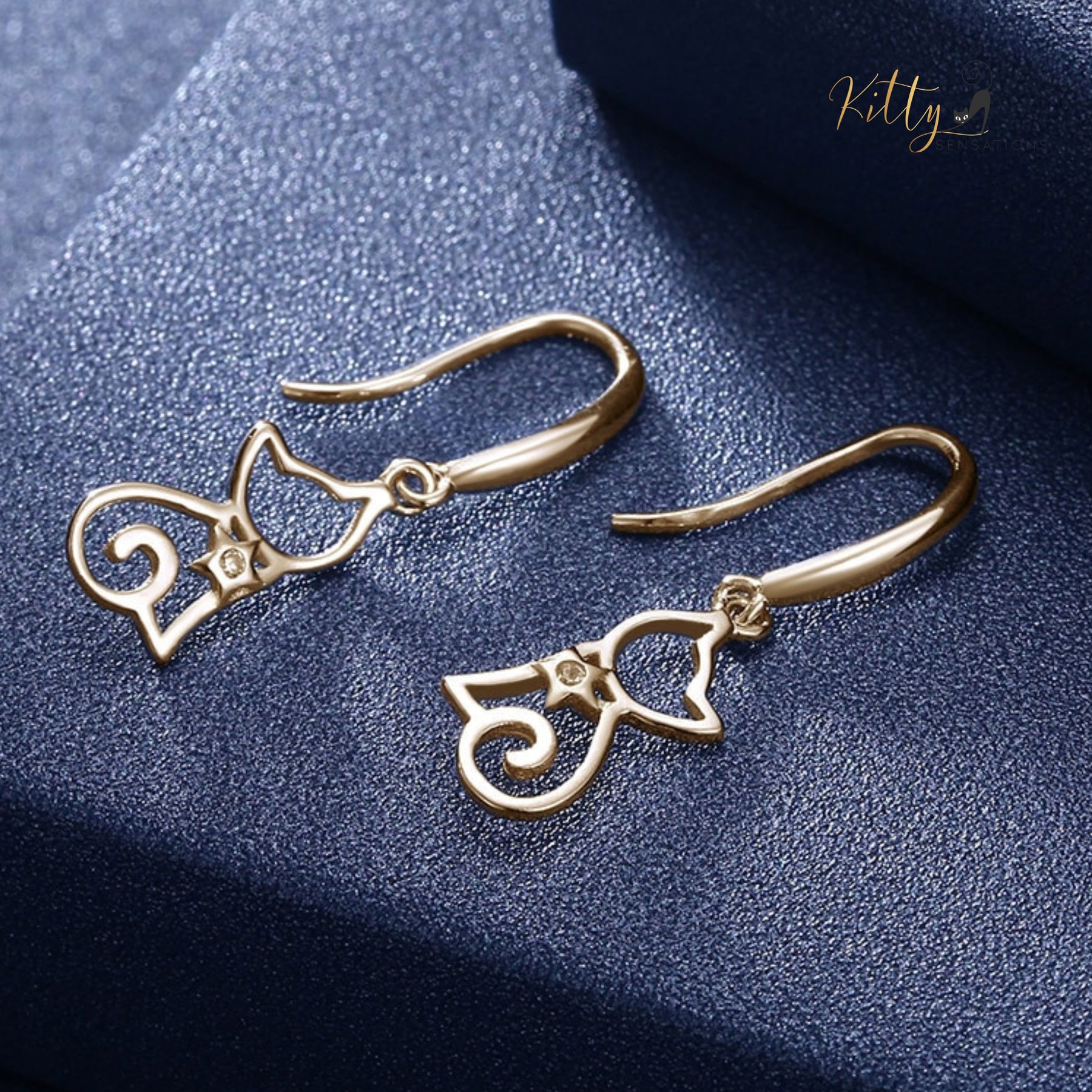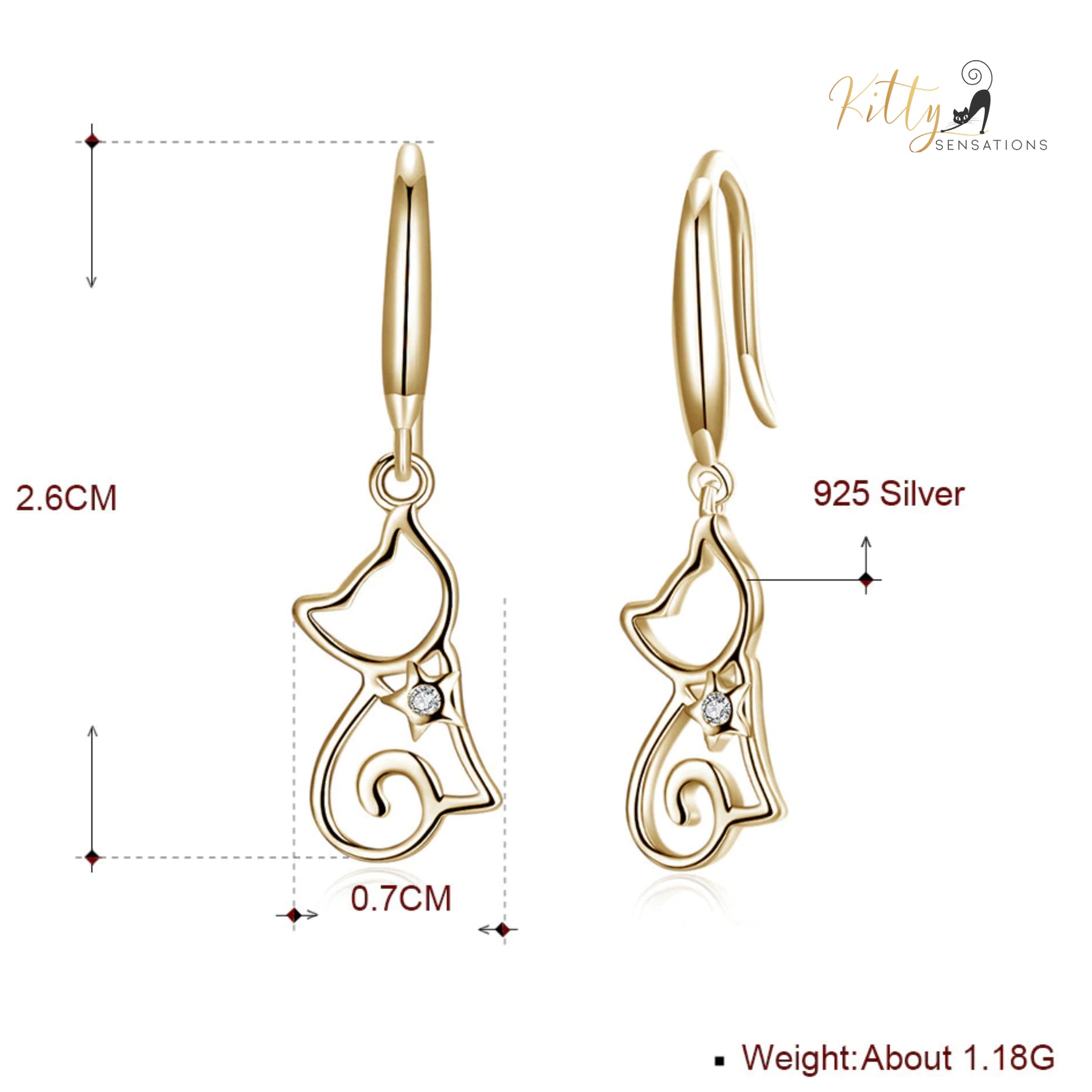 Star Heart Cat Drop/Hook Earrings in Solid 925 Sterling Silver
Cats with Starry Hearts of Gem!

Your love for your cat will be reflected in these delicate and stylish Solid 925 Sterling Silver drop/hook earrings. They show the outlines of a sitting cat with a star shaped heart of Solid 925 Sterling Silver, with a sparkling tiny AAA quality Zircon in the center! 
Your kitty is depicted with her pure, shiny, clean heart :) 
These drop/hook earrings show the outlines of the profile of a cute sitting kitty in Solid 925 Sterling Silver. They show the head of a kitty with cute pointed kitty ears. They show the kitty's furry body. with the front legs straight and hind legs curled in sitting position. It shows a star where the heart should be. The star is encrusted with an AAA quality Zircon crystal for just the right touch of sparkle. 
These hook/drop earrings are simple, yet stylish and slightly sparkly. You can wear them every day, to work or school, or just for a walk. You can wear them for special occasions and Holidays. You can wear them with any colored outfit. 

Construction of 925 Sterling Silver ensures highest quality and durability.

What is more, they are available in your choice of two finishes, Silver and/or Gold.
Gold finish is plated with Yellow Gold. 
The Silver finish Star Heart Cat Drop/Hook Earrings in Solid 925 Sterling Silver are about 2.3 centimeters in length and 1.4 centimeters in width. They weigh about 2.25 grams. 
The Gold finish Star Heart Cat Drop/Hook Earrings in Solid 925 Sterling Silver are about 2.6 centimeters in length and 0.7 centimeters in width. They weigh about 1.18 grams. 
For more details on size and finish, please see the pictures.
You can get these in one of the colors, or you can get them in both colors to complete the ensemble.
These can be excellent gifts too for your cat loving loved ones, or for your loved ones who appreciate quality jewelry!
~ We are here for you ~
If you have any questions, concerns or special inquiries, please do not hesitate to reach out to us via our contact form. We typically ship products within 1-3 business days after your order. You can then expect delivery within the United States within one week and in most other countries within two weeks. 
Our Story: We are a USA based, BBB Accredited, family owned and operated small business and stand for the reliability of US businesses. We genuinely care for our customers, patrons, and cat lovers and strive to provide the best possible products and services. KittySensations has been in business since 2017, started by a family that loves cats and pets of all sorts. Our first pets included the unlikely pair of a gold fish and a lop rabbit!. They got along really well with each other. It was a treat watching the lop bunny hop around the gold fish bowl, following the fishy movements with dangling golden ears. With more than 100,000 satisfied customers we have built a strong reputation of quality and reliability. We hand select our products to ensure that our customers get the best possible value and quality in cat jewelry. We are the one and the largest business in the USA specializing in cat jewelry. For everything cat jewelry related, you can rely on the name of KittySensations. KittySensations stands for quality, taste, and style. 
Our guarantee: If you decide against keeping your earrings, we will take them back and give you a full refund - no questions asked.

Features:

Solid 925 Sterling Silver

Water and scratch resistant for lifelong wear
Anti-drop-protection structure
AAA quality Zircon crystals

100% satisfaction guarantee + 10-year product warranty
Completely free shipping and return